In the United States, the Fourth of July is one of the most important holidays and is the country's National Day. It commemorates the end of the American Revolution, and the July 4, 1776 passing of the Declaration of Independence, which freed the United States from British rule.
From Fourth of July fireworks to singing the National Anthem, Americans use this day to be thankful for our freedom and to remember those who sacrificed to help us attain it.
In learning about this significant U.S. holiday, you're examining the very roots of U.S. culture as it is today. And as any successful language-learner can tell you, understanding a country's culture is vital in mastering the language.
At EnglishClass101.com, we hope to make this learning adventure both fun and informative!
1. What is Independence Day in the United States?
Independence Day dates back to 1776, which was the day the Continental Congress approved the Declaration of Independence for the United States. However, it wasn't until 1781 when the states started to pick it up as a state holiday, and Massachusetts was the first state to do so.
The very first celebration of Independence Day was in Maine in 1820, and Congress made the Fourth of July an official federal holiday in 1870. However, federal employees did not receive pay for the day off until 1838.
2. When is Independence Day?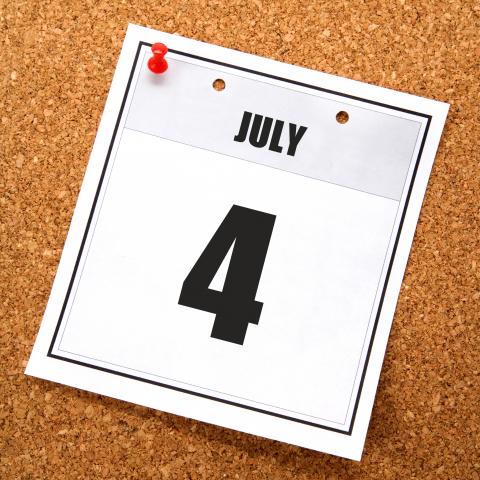 Each year, the United States celebrates its Independence Day on July 4 (which is why this holiday is often called the Fourth of July). July 4, 1776, marks the day that the United States finally gained its independence from Britain.
3. How is the Fourth of July Celebrated?
1- Fourth of July Fireworks
The Fourth of July, or United States Independence Day, is typically celebrated by fireworks displays all over the country.
Some of the most-watched fireworks displays include those at the National Mall and at Mount Rushmore. Many towns and locales have their own fireworks displays on the evening of the fourth, and Americans also enjoy setting off fireworks themselves, although this is banned or restricted in many parts of the country.
In some areas, there are so many fireworks being set off by private residents that police can do little, if anything, to enforce the law, which they put in place for safety reasons.
2- Fourth of July Desserts & Other Popular Foods
Americans typically have backyard barbecues and celebrations in honor of their country's independence. Some of the most common American foods on this day include hot dogs, hamburgers, shish kabobs, steaks, and potatoes.
Since Independence Day is a celebration, after all, Americans also love their Fourth of July desserts. Something Americans often do with any kind of dessert on this day is make them using the colors red, white, and blue as these are the colors of the United States Flag. For instance, if Jello is served, it'll be red, white, and blue; if it's cake or cookies, it'll have red, white, and blue frosting!
3- Other Activities
The week, especially the weekend, around the Fourth of July is typically a very busy travel day in the United States because many Americans travel to see friends and family, making a long weekend out of the holiday. Boating and camping are two activities often enjoyed for Independence Day.
4. The Roots of Many Independence Day Traditions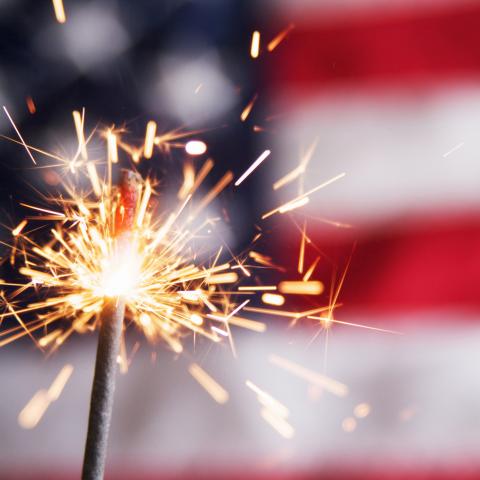 Independence Day has been celebrated since the very first days of the formation of the United States.
On the first anniversary of the Fourth of July, it was marked with a thirteen-gun salute in honor of the thirteen colonies that became states. The guns were fired twice on that day: once in the morning and once at nightfall. The gun salute was held in Rhode Island.
In Philadelphia, we see the beginnings of other major traditions for this holiday, including a dinner held for Congress, more thirteen-gun salutes, parades, and more. General George Washington marked the day in 1778 by giving his troops a double ration of rum.
5. Useful Vocabulary to Know for the Fourth of July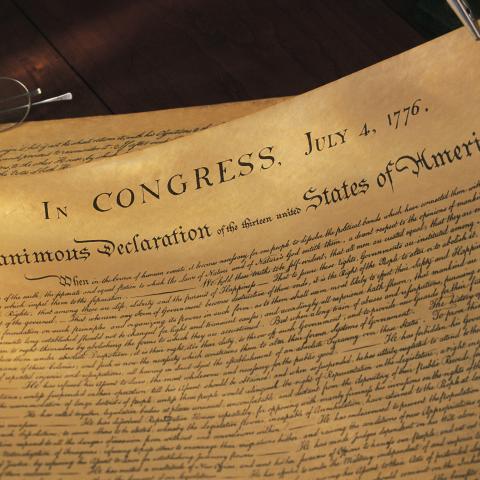 Here's some vocabulary you should know for Independence Day in the United States!
Sign
United States of America
White
Red
Blue
Picnic
Independence Day
Philadelphia
Firework
Flag
Declaration of Independence
Pride
National Anthem
July 4th
Independence
Freedom
Barbeque
1776
Parade
To hear each of these words pronounced, check out our U.S. Independence Day vocabulary list.
Conclusion
What do you think of the Fourth of July traditions in the United States? What does your country do on its National Day? Let us know in the comments! We always love to hear from you!
To continue learning about U.S. culture and the English language, visit us at EnglishClass101.com. We provide an array of fun and practical learning tools for every learner, including free English vocabulary lists and more insightful blog posts like this one! On our website, you can also chat with fellow English learners or ask for help on our community forums, and with a Premium Plus account, you can begin using our MyTeacher program!
Know that your hard work in learning English will pay off, and you'll be speaking, reading, and writing English like a native English-speaker before you know it!
Happy Fourth of July!