No time of year lifts my mood like Christmas does. Maybe it's all of the bright and colorful lights or the nonstop Christmas music on the radio.
Or maybe it's all of the memories from my childhood Christmases that come flooding back: opening gifts from Santa Claus on Christmas morning, enjoying great food with extended family, baking cookies with my best friend…
In this article, you'll learn all about American Christmas traditions, the story behind the holiday, and much more.
Let's get started!
1. What is Christmas?
Christmas is a holiday celebrated each year on December 25.
On Christmas Day, Christians commemorate the Biblical story of Mary and Joseph's journey to Bethlehem and celebrate the birth of Jesus Christ. According to the story, the Virgin Mary was visited by an angel and told that she would give birth to the Son of God. Around the same time, Caesar Augustus of the Roman Empire sent a decree that every person was to return to the place of their birth for tax purposes; this forced pregnant Mary and her husband Joseph to journey to Bethlehem. Once there, they were only able to find a stable to sleep in; it was there that Mary gave birth to Jesus.
While Christmas is traditionally a Christian holiday, many non-religious people also celebrate it. Christmas has become more secularized over time, with many people viewing it as a time to be joyful, compassionate, and generous toward others. There's also a strong focus on family and friendship.
Some people see this holiday as only one of many special days during the so-called "holiday season" or "Christmas season." This is a cluster of holidays from the end of October to the beginning of the new year. Some of the holidays around Christmas include Halloween (October 31) and Thanksgiving (Fourth Thursday of November), as well as Hanukkah and Kwanzaa.
2. How Do Americans Celebrate Christmas?
Because Christmas is celebrated both religiously and secularly, there are tons of different traditions and celebrations that take place.
Religious vs. Non-Religious Celebrations
Common Christmas traditions among Christians include a candlelight service the night before and plays put on by the church depicting Mary and Joseph's journey. In very religious families, the story of Jesus's birth may be read from the Bible at home as well. Churches often organize other events to celebrate, such as get-togethers with food and sweets, and special events for children and teens.
There are also many traditions that both the religious and non-religious take part in.
For example, during the month of December, many people like to count down how many days until Christmas. This can be done with an "Advent calendar," which is a box of chocolates that depicts a calendar. There are little doors with the date written on them, and behind each door is a chocolate candy. Someone eats one of the chocolates every day until Christmas.
Gift-Giving
Christmas is also associated with gift-giving.
Many parents teach their children about Santa Claus, a fat, jolly man who lives at the North Pole and delivers gifts to good children the night before Christmas. Children are also warned that, if they're bad all year, Santa will leave them coal instead of gifts!
In some homes, children are encouraged to leave stockings hanging by the fireplace or to place their shoes right outside their bedroom door; if they do, Santa will leave candies or small toys in them. Many children buy or bake cookies to leave out for Santa Claus, and are excited to wake up the next morning to find nothing but cookie crumbs—it means that Santa really did come!
It's common for family members, close friends, and lovers to buy Christmas gifts for each other, as well. Many businesses and shops have special deals and discounts available for the Christmas season, which entices people to buy more for their loved ones.
The purpose of Christmas gifts is twofold: In religious homes, giving gifts is a symbol of recognition for the gift of Jesus's salvation. In non-religious homes, gift-giving is seen as an act of generosity and has simply become a tradition with time.
Christmas Feasts
Like Thanksgiving, Christmas is often viewed as a great excuse to eat lots of food.
In the morning, some families like to prepare special Christmas breakfasts or brunches. This could be a breakfast casserole with eggs, meat, and hashbrowns, or something simpler like pancakes or scrambled eggs. Other families may treat Christmas breakfast the same as any other breakfast.
For dinner, some families prepare large meals. These often include turkey or ham as the main course, and then sides of potatoes, green beans, and yams. But every family is different, and some people just eat a simple dinner or go out to a nice restaurant.
Children and adults alike look forward to a variety of sweet treats on Christmas. These include Christmas cookies, puddings, pies, cakes, flavored baked bread, and eggnog.
Decorations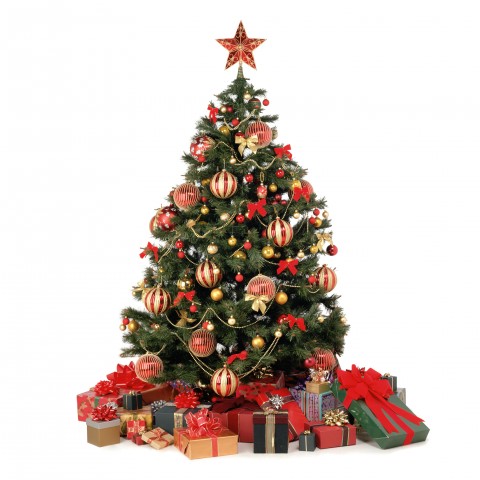 Christmas is one of the most vibrant holidays in the United States, with many people doing elaborate Christmas decorating each year.
The most popular symbol of Christmas is the Christmas tree. Traditionally, this was an actual conifer tree that people would either chop down themselves or purchase from a Christmas tree shop. Nowadays, many people opt for plastic or other artificial "trees" that are much more convenient, don't drop nettles on the floor, and can be used year after year. Some of these artificial trees can even change color!
Once the tree is set up, people hang all kinds of small decorations on it; these include Christmas lights, tinsel, and small trinkets that can be store-bought or hand-made. Usually, an angel or a star is placed on top.
On some homes, you'll find a wreath hanging on the front door and tons of Christmas lights strung over the exterior. Some people go above and beyond, spending lots of time and money to make their house decorations the best on the street. Some families like to drive around different neighborhoods at night during the Christmas season to see all of the amazing Christmas light displays.
Other Traditions
Christmas is a heart-warming time to be spent with family, friends, or other loved ones. There are several activities that people enjoy partaking in for the holiday!
Many Americans look forward to snow on Christmas Day. Children often hope to look out their window on Christmas morning and find snow on the ground. This is the perfect time to go outside and play: building snowmen, making snow angels, and having snowball fights. Of course, they won't be outside too long—it's cold outside, and there are presents to be opened!
Some families like to make gingerbread houses and gingerbread men. These are model figures of houses and people that are made using gingerbread cookie, frosting, candy, and other sweet ingredients. Once they're done, people break apart the gingerbread houses and men and eat them piece by piece.
Another common Christmas tradition is that of the mistletoe. It's said that when two people are under a mistletoe on Christmas Day, they have to kiss each other. Lovers and married couples often stand under the mistletoe intentionally.
Finally, it's not uncommon for workplaces to host Christmas or Christmas Eve parties. These are festive get-togethers for coworkers to celebrate the Christmas season together with food, drinks, and games.
3. Christmas in Boston
There's one American city that didn't welcome the celebration of Christmas for a long time: Boston!
In 1630, the Puritans settled in the New World and formed the Massachusetts Bay Colony. The Puritans were a group of people who, like the Pilgrims, sought a new form of religious structure. They believed that they could worship God as a separate entity from the Church of England while still being governed by it.
In short, Puritans believed that Christmas was a blasphemous holiday since the Bible never mentions the actual date of Jesus's birth. In addition, they didn't like the traditional pagan celebrations that Christmas took place around. In the mid-1800s, the Christmas ban was finally lifted and Massachusetts could once again celebrate the holiday.
Today, Boston is known for its lavish Christmas decorations and celebrations!
4. Essential Christmas Day Vocabulary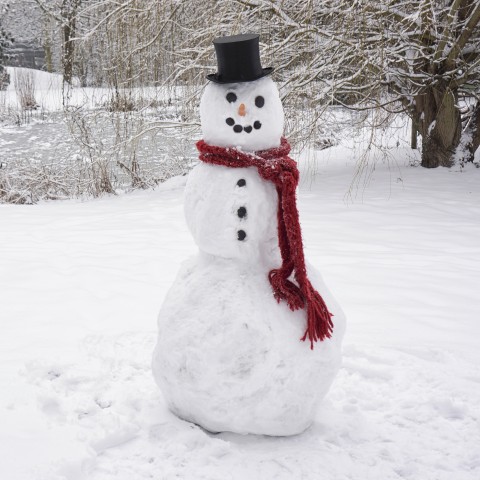 Let's review some of the key vocabulary words from this article!
Present [n]
Christmas
Snow [n]
Wreath [n]
Snowflake [n]
Sled [n]
Christmas Day [n]
Chimney [n]
Holly [n]
Christmas tree [n]
Candy cane
Decoration [n]
Fireplace [n]
North Pole
Elf [n]
Bell [n]
Stocking [n]
Snowman [n]
Santa Claus
Rudolph the Red-Nosed Reindeer
Reindeer [n]
Mistletoe [n]
Gingerbread house [n]
Remember that you can find each of these words, along with their pronunciation, on our list of Must-Know Christmas Day Vocabulary!
Final Thoughts
For many, Christmas is one of the busiest and most beautiful holidays in the United States. While it has a different meaning for everyone, the vast majority of the U.S. population looks forward to this day all year long.
What are your thoughts on Christmas Day traditions? Do you celebrate Christmas in your country? We look forward to hearing from you in the comments!
If you enjoyed this article and would like to learn more about U.S. culture and the English language, there are several blog posts on EnglishClass101.com we think you'll love:
For more excellent content at your fingertips, create your free lifetime account today. We regularly upload audio and video lessons on a variety of topics, add themed vocabulary lists, and provide other useful materials for learners at every level.
Happy learning and Merry Christmas from the EnglishClass101 team!