Each year, Americans celebrate Halloween—a holiday dedicated to everything spooky, dark, and disturbing. While this Halloween celebration is relatively new in the U.S., many Americans actually look forward to it all year long!
In this article, you'll learn about the most common Halloween activities, the holiday's possible origins, and popular Halloween sayings you can start practicing today.
At EnglishClass101.com, we hope to make every aspect of your learning journey both fun and informative!
1. What is Halloween in the United States?
Halloween is a time for celebration in the USA. It's become the second most popular holiday in the nation over the years. Halloween is known for its oftentimes scary costumes, elaborate parties and events, horror film festivals, and its many Gothic trappings. This holiday was a latecomer to the US, and only became popular in the early twentieth century.
2. When is Halloween?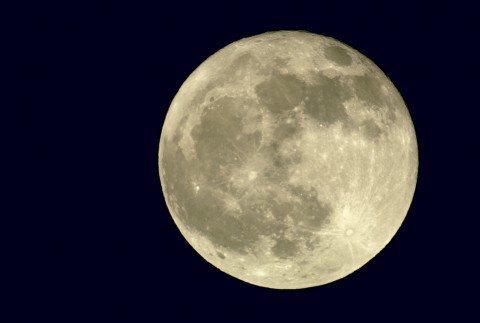 Each year, the United States celebrates Halloween on October 31. However, there have been recent petitions to change the Halloween date to the final Saturday in October. In time, we'll see if this becomes the case. 😉
3. Halloween Events, Celebrations & Common Themes
The Basics
People in the USA typically carve pumpkins into scary jack o' lanterns, use Halloween decorations to make their houses spooky inside and out, and wear a variety of Halloween costumes to celebrate. Some people believe that these aspects of Halloween have roots in Celtic and European myths and traditions.
Halloween Music & Moves
Today, popular horror films and Halloween movies have also influenced the cultural traditions that surround Halloween. The monster movies of the early twentieth century are significant contributors to the look and feel of modern Halloween celebrations in the USA! Check the local theaters and TV stations around Halloween, and you'll find plenty of scary stuff to watch!
Another favorite for lovers of this holiday is Halloween music. From basic haunting tunes to pop-culture classics, there will be some kind of spooky music playing just about anywhere! To get a taste, why not listen to one of the most popular examples of classic Halloween music: The Monster Mash.
Trick-or-Treating, Haunted Houses & Hayrides
Trick-or-treating started at the beginning of the twentieth century to curb the vandalism and destruction that once characterized this holiday in the USA. Today, Halloween is a night when the streets are full of families getting treats from their neighbors, and vandalism and other problems are rare.
Some families and social groups set up elaborate haunted houses and invite people to go through for free or a donation. Hayrides and other nighttime events are also very popular in rural areas.
Halloween Costumes
Over the years, Halloween costumes in the USA have become more varied. Some people, particularly younger participants, forego the dark Gothic theme of the holiday and dress up as movie characters, their favorite characters from books, or even important figures from the past.
4. Samhain: The Original Halloween?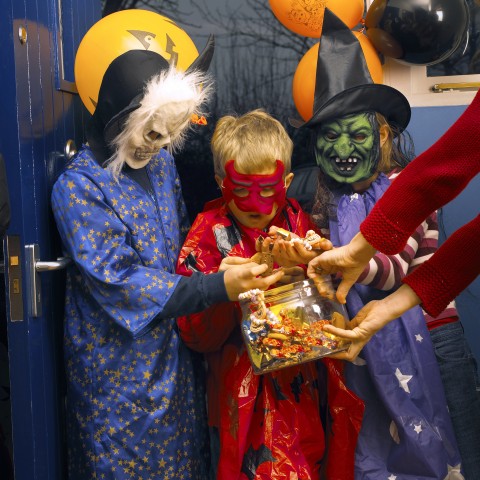 Do you know where the U.S. may have borrowed the tradition of dressing up?
Samhain is considered by some to be a significant influence on current Halloween celebrations in the United States, though this is disputed by some scholars. Samhain was—and still is, to some extent—celebrated in Scotland and Ireland. It's associated with the final harvest of the year more than it is with scary ghouls and goblins, though spirits do play a part!
The dressing up was originally done to scare malicious spirits away, or to trick them into thinking that you were one of them to avoid harm.
5. Essential Halloween Night Vocabulary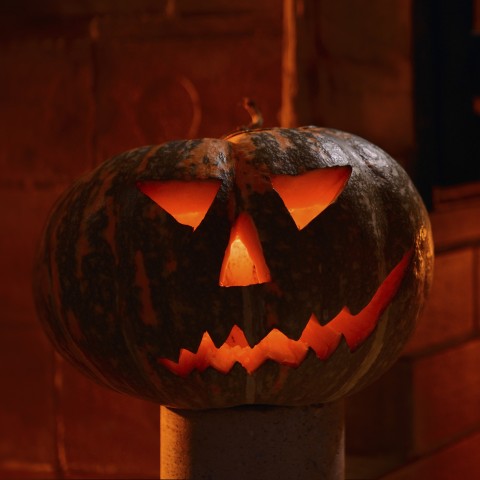 Here's the essential vocabulary you should know for Halloween in the United States!
Candy
Witch
Spider
Pirate
Pumpkin
Bone
Jack-o '-lantern
Scary
Skull
Halloween
Bat
Broom
Costume
Vampire
Ghost
Frankenstein
Black cat
Boo!
Goblin
Mummy
Monster
Haunted house
Trick-or-treat
Spooky
Werewolf
Zombie
Skeleton
Devil
We have a lesson dedicated to these must-know Halloween words on our website; why not check it out?
EnglishClass101: The Best Guide to English & U.S. Culture
We hope you enjoyed learning about Halloween with us! Did you learn anything new? Are you excited to participate in some of these Halloween activities? Let us know in the comments; we always love hearing from you!
To learn more about United States culture and the English language, explore EnglishClass101.com. We provide an array of fun and effective learning tools for every learner, at every level:
Insightful blog posts on a range of cultural and language-related topics
Free vocabulary lists covering numerous topics and themes
Podcasts and videos to improve your listening and pronunciation skills
Mobile apps to learn English anywhere, on your own time
Much, much more!
To really make the most of your learning journey, be sure to upgrade to Premium Plus. Doing so will give you access to your own English teacher who will help you develop a learning plan based on your needs and goals.
English is a difficult language to master, but at EnglishClass101, we believe you can do it! And we'll be here with help and encouragement every step of the way.
Happy Halloween!